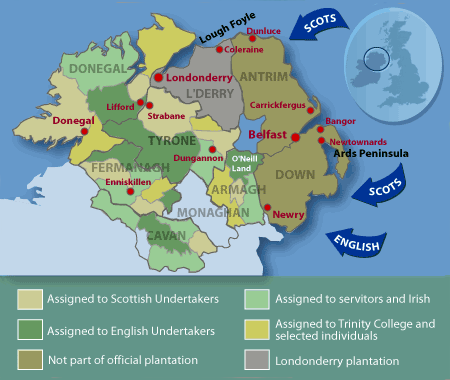 After many years of turmoil and unrest, Great Briton began a repopulation of conquered and confiscated lands in Ireland, starting about the mid 1500's, with what they expected would be a people more sympathetic to the crown. The largest repopulation in Ulster Province, of northernmost Ireland, however, began in the very early 1600's, after the Nine Years War (1594-1603). It is from this group in this area, at this time, we find the first mention of families with the surname Jam?son, in Ireland.
Ulster is made up of nine counties, Antrim, Armagh, Cavan, Donegal, Down, Fermanagh, Londonderry, Monaghan and Tyrone, much of which is now generally known as Northern Ireland.
To the right is a graphic[1] depicting the various areas in Ulster, where Plantations occurred. Over a period of many years, starting about 1609, land was offered at very reasonable rates, in good amounts and with attractive conditions to their own citizens, sometimes in specific ways hoped to correct problems on the home front.
It can be argued that this graphic may be too generalized to be considered accurate or even useful. As an example, it is known that what is now County Londonderry, was settled by a consortium of companies in London created for that purpose, by many English and lowland Scots, as well as others from western Scotland. Particularly those Scots and English from the border areas of those two countries in an effort to ease the continuing strife going on there.[2] However, it is also thought that many, primarily Scots, those who had earlier settled in the areas of Counties Antrim and Down to the east, ended up in the Londonderry Plantation. It would be safe to say that the Londonderry Plantation, in what is now County Londonderry, was made up from mostly English, Scottish and even Welsh settlers, many from the long conflicted area of the English - Scottish border. In fact, by 1700, all of Ulster can be thought to have been (re)settled by a combination of English, Scottish and Welsh.
Jam?son families can be found in almost all areas of Ulster, but it appears that most of the early pre 1700 Jam?sons were to be found in the northwest Antrim and eastern parts of Londonderry Counties, with a significant concentration of those with that surname in Coleraine and the surrounding Bann River Valley area. There were also early Jam?sons in the area in and around Belfast and parts of County Down, as well as several Jameson families to be found in the city of Londonderry itself. After about 1700 Jam?son families seem to be found in almost all parts of Ulster. It can be said that some Jam?sons were likely some of the earliest settlers in Ulster, and that they were undoubtedly first arriving and living in the eastern part of Antrim-Down counties, eventually drifting westward in a mostly northerly way thereafter.